Patrick, Lydia and I went on Wednesday to find out the gender of this little baby inside of me. What a treat!! It's a girl. We are so thrilled to be adding another girl to our family. We watched a really sad video
HERE
about how those three words "it's a girl" are in some places the deadliest. Well, Praise the Lord for HE has given us hearts that love children. Boys and GIRLS.
Isn't this the sweetest little profile??
The tech surprised me by throwing in some 3D time. I didn't get this with Lydia and would never ask for it because I figure it's expensive and they still kind of look like aliens at this point. Here are a few of our 3D babe. She is weighing in around 13 ounces right now. TINY. But yet everything is there and she's healthy and kicking away! Her heart beat was 148 or something like that.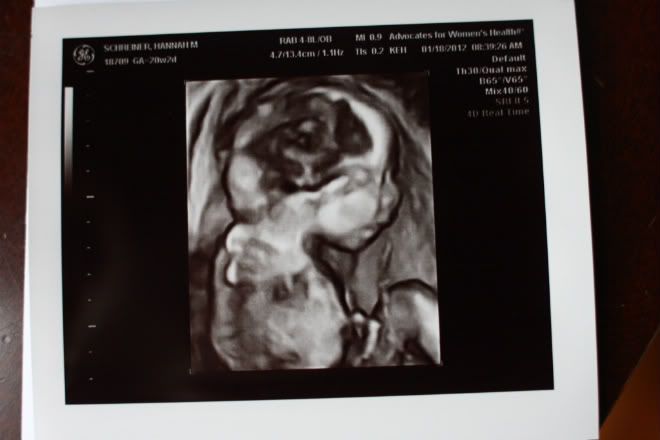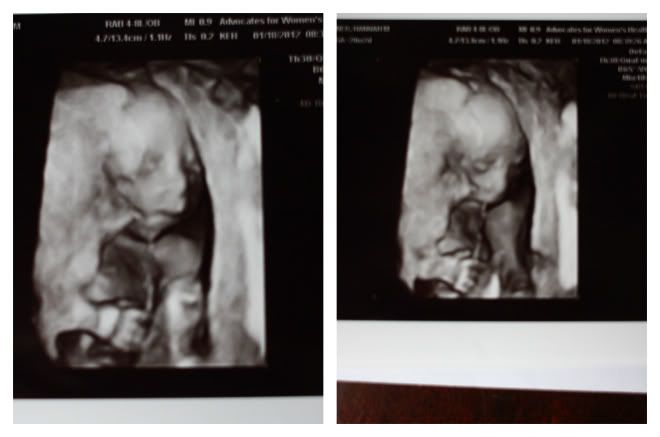 My stats:
Blood Pressure: 120/60 which is a little high for me... I was so anxious to find out!
Weight: 122 (8 lbs total).
I have been experiencing some flutters in my heart. I asked the doctor about it and she said it's completely normal during pregnancy. My body has/is producing so much more blood than normal which can causes some random palpitations. She said it's nothing to be too concerned about unless they don't go away. I didn't experience this with Lydia. Did any of you have this experience???