Lyds and I went to the park today. It was her first time in a swing. She was adorable. She kept giggling everytime I'd push her. She pretty much loved it.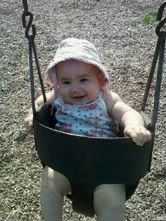 (taken with my phone sorry it's so small)
While we were there some little boy asked me if I'd help his papaw make him a brother. SORRY kid but that aint happening.