You know you are WAY behind on posting when you have to combine 4 weeks worth of updates.
At 32 weeks I went for my normal appointment. I saw a different doctor than usual because mine was on vacation. She measured my stomach and said I was measuring 29/30 cm and suggested I get an ultrasound the next time I came in to check the babies growth. I wasn't worried because I'm pretty sure I measured small a few times with Lydia and then the next time would be right on track or bigger than what was expected. Another reason I wasn't worried was because I just figured with it being a different doctor they probably measure a little differently from each other. Anyway left that appointment excited to get to see baby at next appointment
I had also gained 1 lb (138lbs). Can't remember my blood pressure or babies heart rate but they were all just fine.
Here is a 33 weeks picture.
Last Monday rolled around and I went for my 34 week appointment. My mom came up to help with Lydia at the office and to get a peek at the little girl in utero. So thankful that she was there because we ended up being at the dr's office for 2 hrs.
I made up for weight gain this time and gained 4 lbs (142). My blood pressure was normal.
Everything checked out wonderfully with the ultrasound. She's measuring just fine. (When my normal doctor measured my stomach this time I was right at 34 cm)
I am thankful for the good report and don't take it for granted. I know that every single day with this baby growing inside of me is a gift from the Lord. He is the giver and sustainer of all life.
And here is a 35 week and 2 day picture. (taken just before posting this post)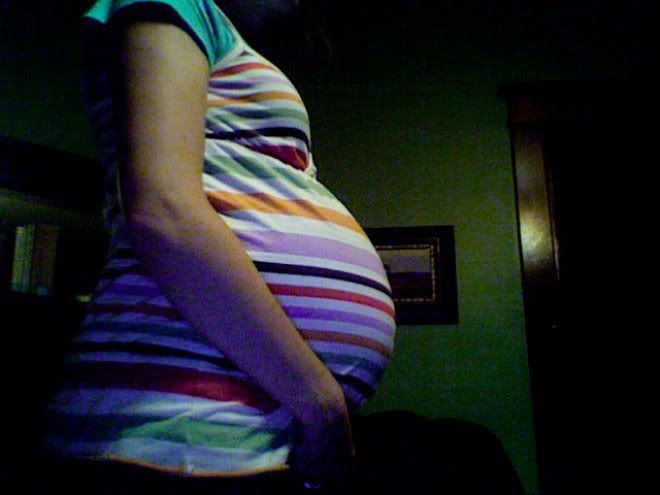 I'm feeling very big and starting to get pretty uncomfortable. Currently experiencing heart burn. My face has started to retain water or just gaining weight there?? I don't know. I haven't really been swelling in my feet but my hands have started to feel a little tight if I'm really hot. Getting excited to meet this little girl. Just bought a toddler bed for Lydia tonight and now it's time to get the room set up for two girls (even though they probably wont be officially sharing the room for at least a few months).