I've been sewing lately. Now that my machine is fixed it's so much more fun. Tons less frustrating.
So one night when Patrick was out with a guy friend I got an itch to sew Lydia a dress. I didn't want it to be complicated. Our printer is out of ink so I didn't want to have to use a pattern that I'd need to print. I wanted simple. REALLY simple. And I found it. Googled for an easy girls dress and
this one
popped up.
I had an old t-shirt of P's that had a hole in it. I like the color and it's really soft. So I cut it up and made a dress. I like the idea of this dress because it works as a dress now and later can be a tunic top or a skirt. I took a few pictures of the process.
This one of Lydia isn't the best. She's not looking and the dress was slipping down her chest... You get the point though. Oh and the dark spot on the right corner...SPIT UP. Right after I put the dress on her she spit up all over it.
I'm not thrilled with my dress but it'll work. I made it really quickly...didn't iron anything down so it's a little sloppy.
More recently while kids (this was a day I was watching my niece and nephew) were napping I got out
Anna Maria Horner's
book "Handmade Beginnings" and made the Henny Penny and Six Chicks.
I had never sewn using a pattern so this was my first time. I thought it'd be an easier start than a dress. My next thing is going to be a dress. Lydia likes holding on to the chicks and crawling around.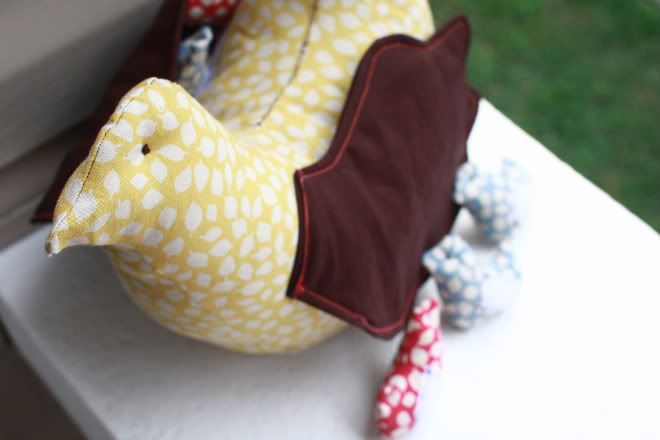 the chicks (3 blue 3 pink) fit under the wings.