It's always hard coming back from vacation. Especially when you were vacationing at a beautiful place. It's hard to leave the view of the ocean night after night and come home to a street that is often speckled with trash.
But when you come home to this...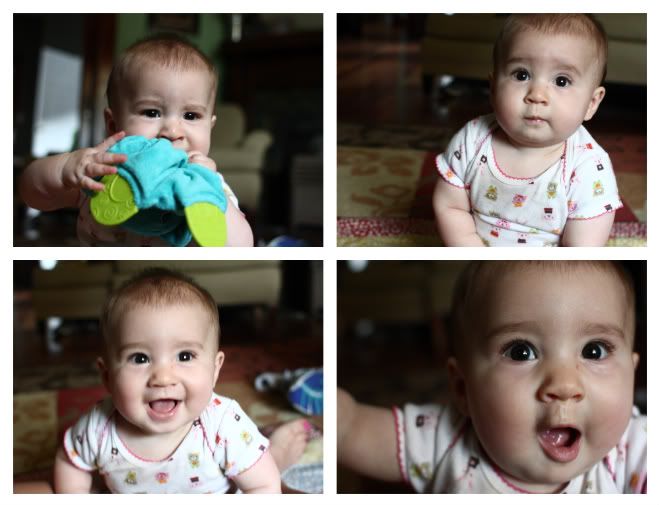 it's oh so sweet!!
We have been loving having our girl around again. She seems to be growing leaps and bounds every day. Some one remind me where my new born went. I can't seem to find her.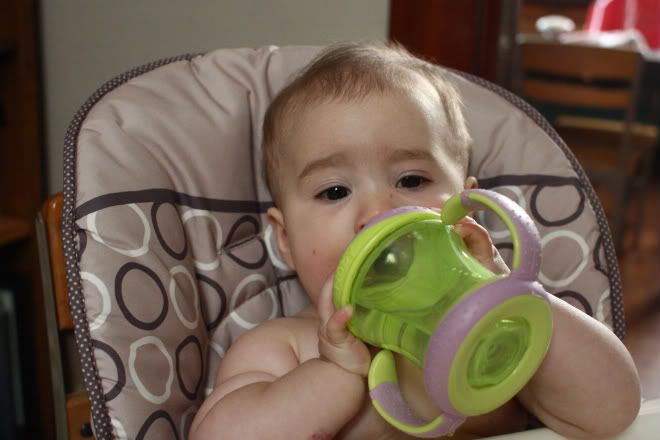 oh yeah that's her in the high chair.
We brought out her high chair for the first time two nights ago. She looks so big in it. She has been loving food lately. We have started giving her some meats and am being more adventurous with letting her try our food (in itty bitty bites of course...no choking hazards). She had ritz crackers the other day for the first time and loved them. She holds them herself and puts them in her mouth. They get all soggy and mostly end up in her lap. She gets a little though. It's fun to watch her figure these things out. I think she feels like a big girl.
Before we left, we introduced her to the sippy cup. Here's her first time exploring.
She has been such a little giggle box these last few days. I can do the silliest thing and she'll crack up. Prime example...I was putting up her old clothes and getting out new clothes the other day. I sat her in the corner of her crib (to practice her sitting skills), I started dancing and jumping around, she loved it. Patrick caught some of it on this video.
thanks for the sweet welcome home Lydia!