I'm going to try and make Lydia's baby food. I'm not against store bought baby food. We are doing it because it's cheaper and fun! Well I think it's fun now... we'll see after a few months of doing it.
Patrick and I are going on a week long trip in about a month. We are leaving Lydia with our parents. She's okay at taking a bottle. She's not super excited but will do it if she has to. I wanted to make sure that she was getting something else other than breast milk just in case she decides not to take a bottle well while we're gone. I know lots of places say to wait until 6 months to introduce solids but we decided to do it a little early so she'll be a pro by the time we go on our trip.
With her turning 5 months on Thursday we decided we'd go ahead and start. We picked today so that Patrick could be here and feed her. We are excited about this new phase of her life. It'll be fun to make her food and see all her reactions to different tastes.
Today we are feeding her butternut squash. I also made sweet potatoes and avocado. We'll introduce those after a few days of squash just to make sure she's good on the allergy side of things.
I documented the process of making the food to share with those of you who are curious.
I started with a butternut squash, an avocado, and a sweet potato.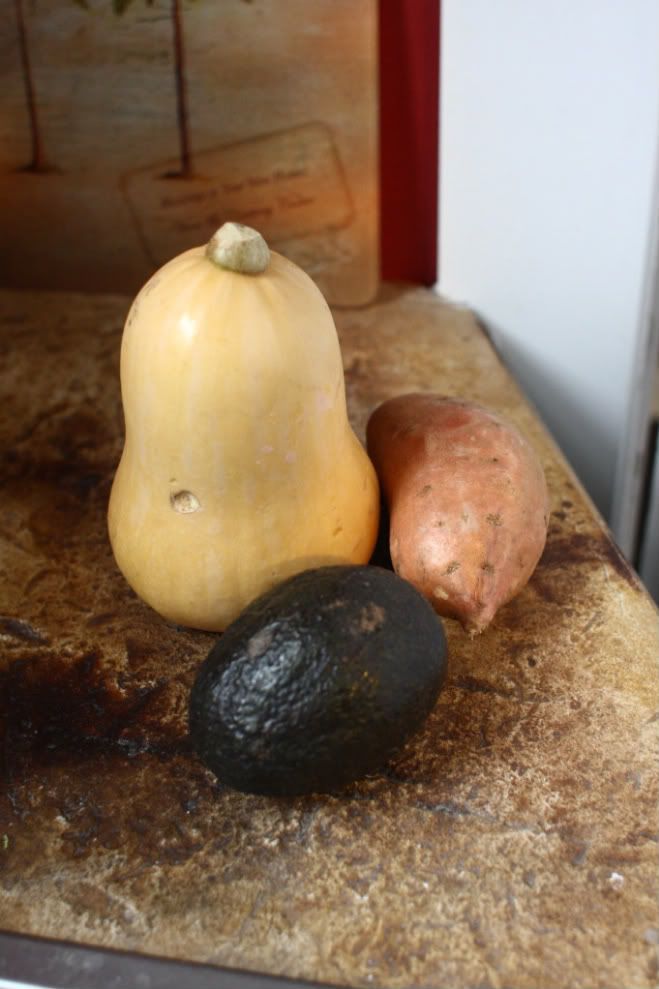 I washed all of these. Then cut the butternut squash in half. (I only used one half because I wanted to use the other half for Patrick and I)
Scooped out the seeds with a spoon and then cut into smaller sections.
Laid these in a dish with a little water in the bottom and then microwaved for 10 min.
After microwaving until the squash was tender, I let it sit for 5 min. Then I scooped out the insides leaving the skin behind. Dumped this into the blender and started on my sweet potato.
I washed and peeled the sweet potato then cut it into small cubes. Placed in a microwave safe dish with a small amount of water and microwaved for 10 min.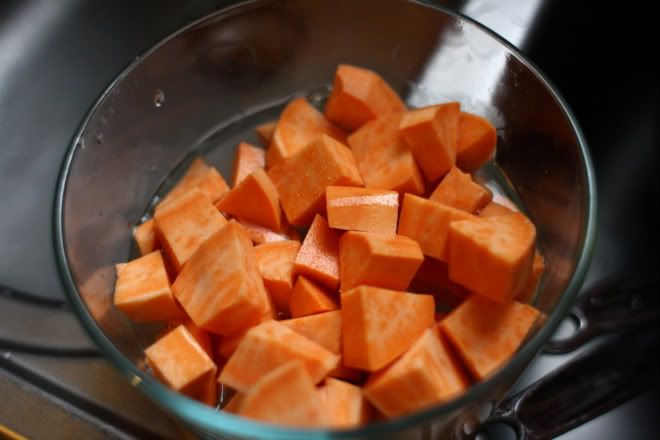 Let cool for 5 min and then dumped into the blender. Now I had squash and sweet potatoes ready to be blended.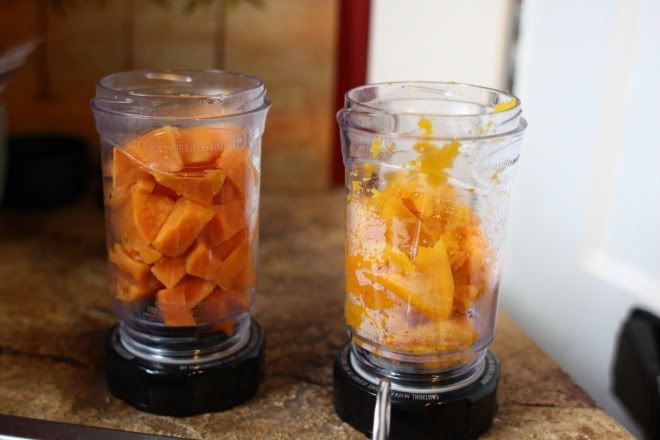 Avocado time! Wash. Cut in half. Took out pit. Scooped out the good stuff into a bowl. Avocado doesn't need to be cooked. So I just went to town with a fork. Smooshing it till it was smooth.

I used breast milk to make all of these thinner. After I was done mashing and blending, I put these in some handy dandy ice trays and froze them.
Now I just pop one out and microwave for 20 seconds and feed the girl some yummy homemade food.
I used this book (it came with the trays).