I mentioned a while back that I was going to try a new recipe every week. I haven't exactly followed through with that. Whoops. I have been trying to change things up though. If I don't try a completely new recipe I'll throw a twist on an oldie. Here are a few things that I've made
We have tuna every once in a while around here. It's quick and easy. Also I think it's a good source of something. I can't seem to find my picture of this but it was yummy. I rolled the tuna into medium sized balls and then breaded them with Ritz cracker crumbs. Baked them until crispy. Paired this with crescent rolls and a big salad topped with strawberries and grapes. I wish I had my picture... it was nice and colorful. Anyway this meal took a whopping 15 min or so and turned out pretty yummy. Nice and light on a hot Spring night.
Next I tried black bean soup. I love Panera's BB soup. I got this recipe from a friend's mom. It turned out very yummy. I just happened to have some soup bowls to put it in. DELISH!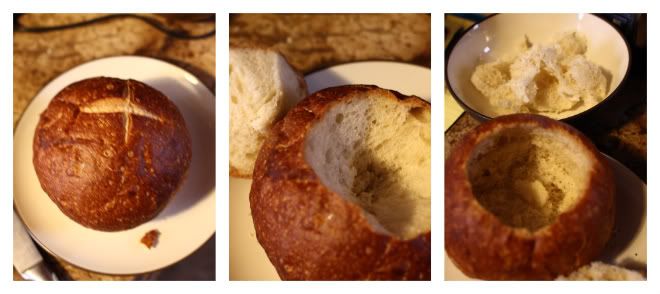 Here is the recipe... I cut it in half because it was only for Patrick and I. If I eat beans as left overs for too many days, Lydia's belly gets mad at me. I also didn't do the optional sausage.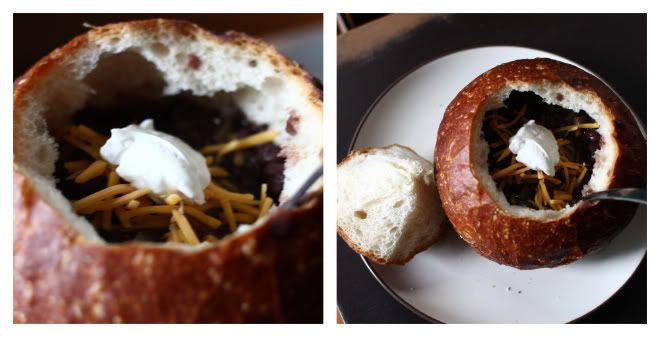 Black bean soup
4 cans Bush Black Beans ( 2 seasoned, 2 regular)
2 Tbsp. olive oil
1 med. onion chopped
2 cloves garlic minced
½ of a green pepper chopped
Optional: 8-12 oz. andouille sausage (med. or hot according to your taste) – Cook in skillet before adding.
24 oz chicken broth ( start with 1-18 oz. add more depending on thickness you prefer)
1 tsp. chili powder
2 -7 oz. can Herdex Salsa (1 hot, 1 mild)*
*Using this salsa is key to flavor –find in Mexican food section at Kroger
Suggested toppings: sour cream, chopped green onions, grated cheese
In a stock pot, heat olive oil, add chopped onions, gr. Pepper and garlic. Saute until onions are
translucent over medium heat. In a food processor ( or mash with a potato masher, two cans of the
Bush's beans. ) Add the chicken stock, mashed beans, two cans of Bush's beans, salsa and chilie powder.
Add additional chicken stock here if desired. Cook on low heat for at least an hour, stirring occasionally.
Top bowls with toppings if desired.