I'm 15 weeks and figured it was about time I started updating the blog with pregger facts.
I have felt the baby move a few times. Nothing big or too consistent but just some random little flutters here or there at nighttime when I'm sitting real still.
I am extremely thankful that I have had two weeks and a few days with out sickness. It is a huge kindness of the Lord! It's not fun being sick but its really not fun being sick and taking care of a one year old. But I'd take it any day knowing that it's because a baby is growing inside of me.
Another thing I'm thankful for is how this pregnancy has really given me relief from my Rheumatoid Arthritis symptoms. I have little aches here and there but NOTHING like it used to be. I know that there is always a possibility that I can have a flare up after having the baby but I know that the Lord will give me strength to endure. I'm just thankful for how I feel right now!!
I am starting to show a little bit. I'm sure after all the food I'll be eating around Christmas time there'll be no doubt of whether I'm pudgy or have a baby growing in my belly.
This picture is actually from 15 weeks 2 days but wanted to go ahead and post it.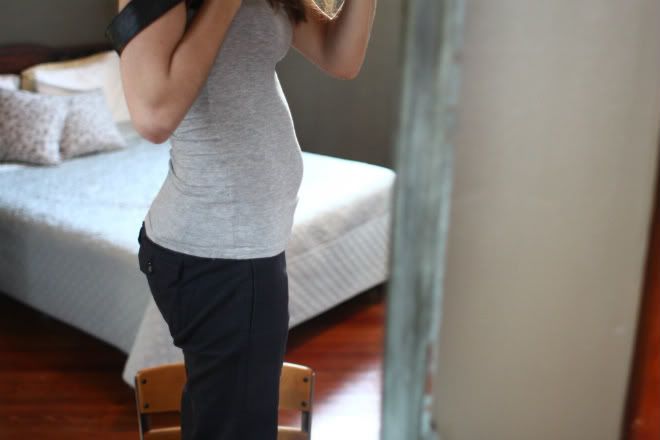 Also I just noticed that I hadn't posted any of my info from my 12 week appointment.
My blood pressure was fine at 100/60.
My weight hadn't changed and was still 114.
Baby's heart beat took a little to find and had me holding my breath but that little heart beat was finally discovered and was in the 150's.